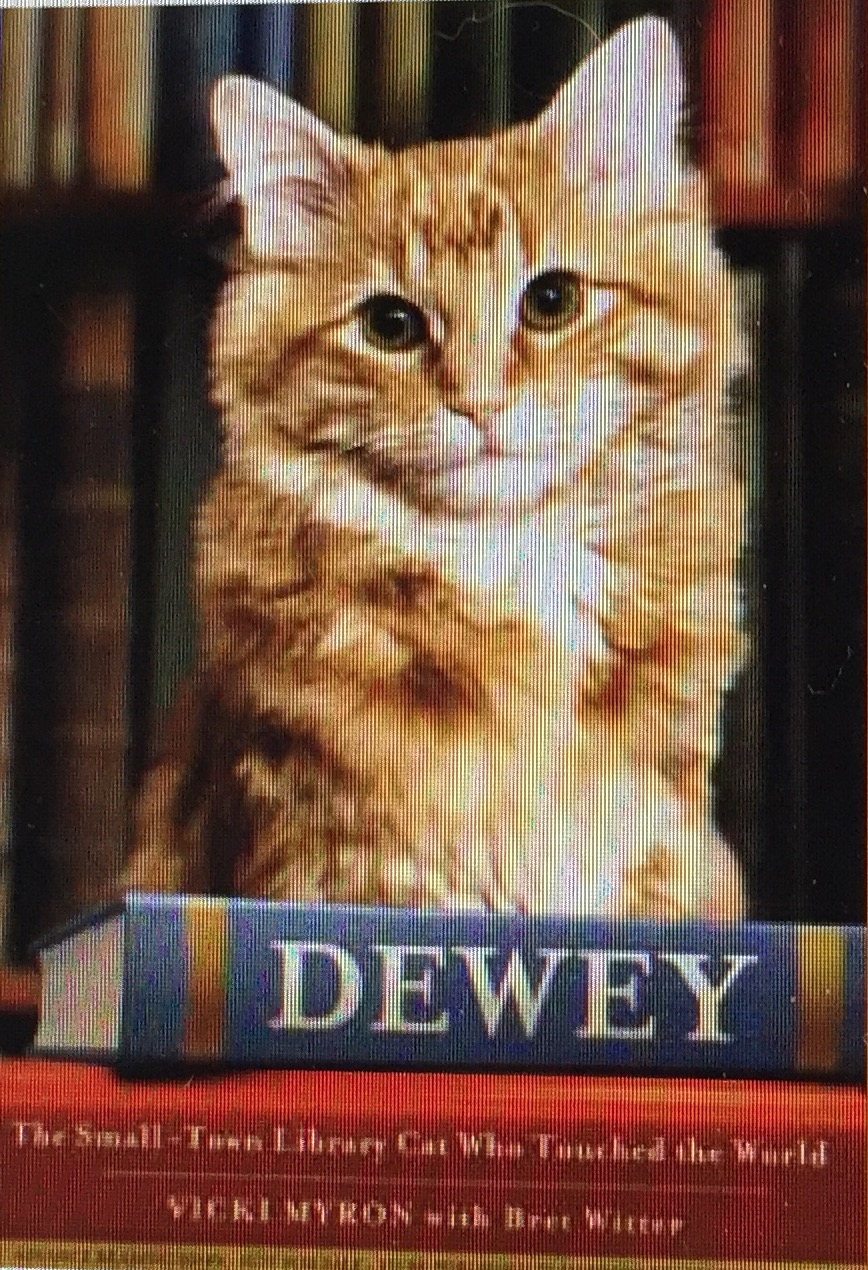 REVIEWING THE BOOK:  "DEWEY - THE SMALL TOWN LIBRARY CAT WHO TOUCHED THE WORLD"
Spencer is a very small town in Iowa known for harsh, freezing winters.  The Spencer Library Director, Vicki Myron, arrived at work early one freezing morning.  She heard scratching in their metal book drop box.  She thought it was a squirrel.  When she looked inside, she saw a tiny kitten huddled and shivering amongst the books in the freezing metal book return box.  Someone had dropped this kitten down the metal chute into the freezing library book return box!  Vicki picked up the emaciated kitten and held it close to warm it.  After it was warmed and surrounded by library staff, the kitten struggled to stand.  Then, hobbling on frozen paw-pads, he walked around the circle of library staff, purring and dipping his head to be petted by each.  It might have been his way of saying "Thank-you for saving my life on this blustery, freezing winter morning."
The Library Director suggested that this kitten become Spencer Library's cat.  All present thought it was a grand idea.  His official name became 'Dewey Readmore Books.'  But, to those who visited, he was just 'Dewey.' He loved his new library home.  He greeted the library's visitors sensing which visitors needed his attention and for how long.    The townspeople were intrigued with their new library cat.  Usually when people entered the library, they asked about a book.  But now, they asked about Dewey and, as if on cue, he would present himself.  Visits to the library increased.  The local newspaper wrote an article about Dewey, the new Spencer Library cat.  The article brought an avalanche of interest from children and people in surrounding communities, then within the state, then the country and, finally, the world.  The elderly, parents with their young children and the disabled came from distant states and countries to see and visit Dewey.
Each chapter begins with a picture of Dewey somewhere in the Spencer Library -- perched on a shelf between library books, in a box, playing hide-and-seek, gazing at the library's Christmas tree, etc.  The front cover is a frontal photo of Dewey, a fluffy, orange-tabby kitten, gazing straight into your heart. 
Dewey triumphed over an adverse start in life.  Similarly, the Library Director was triumphing over adversity, obstacles and challenges in her adult life.  Perhaps that is why Dewey and Vicki formed an instant bond.  Their relationship, the straight forward writing of Bret Witter and Vicki's astute observations and descriptions of Dewey render this a heart-warming, sometimes sad, but inspiring story that children and cat-loving adults will relish.