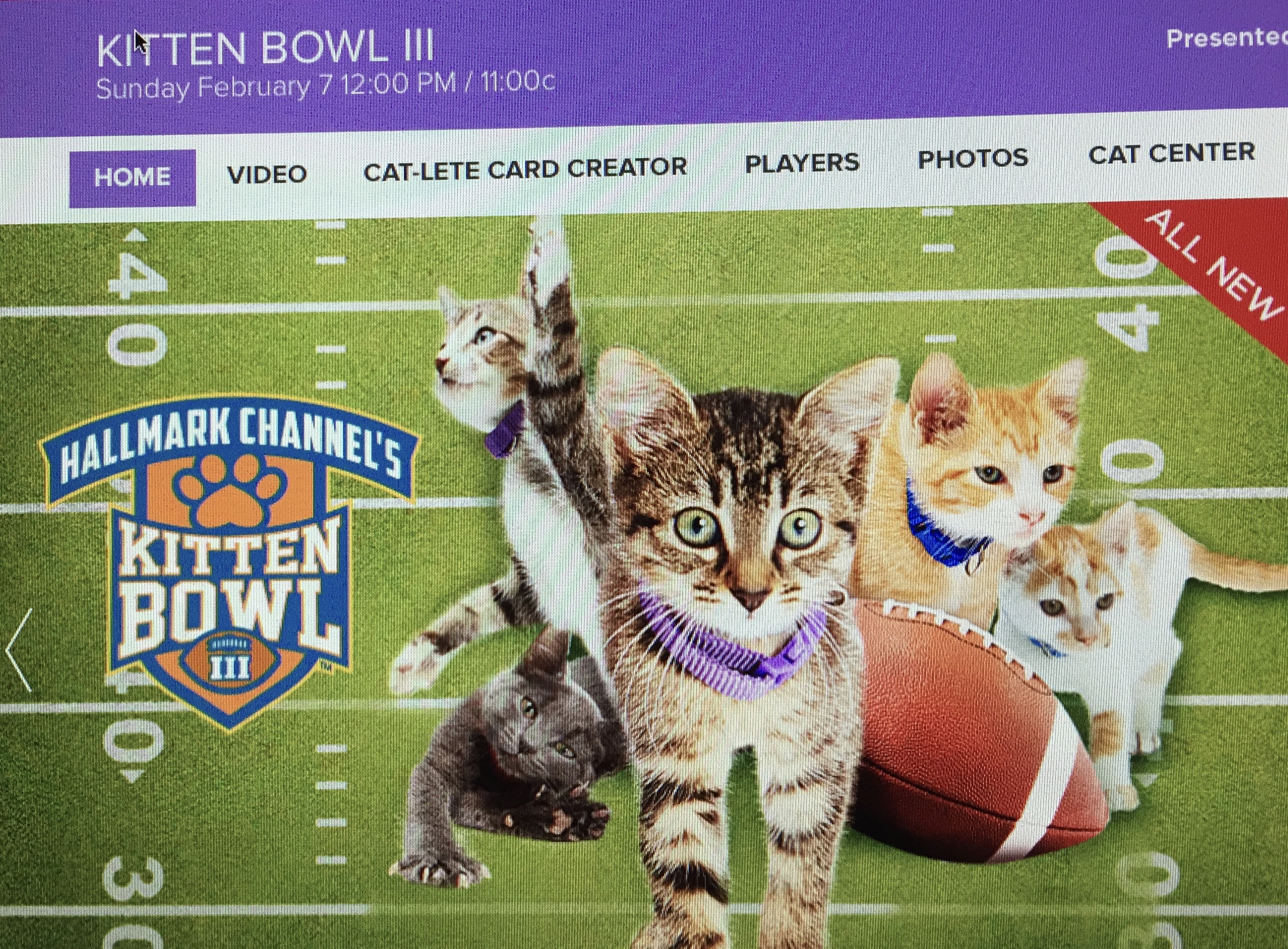 Want to get your competitive pre-game cat-itude revved up before the Super Bowl Game on Sunday?  The Cat Authors highly recommend that you sharpen your claws and get that remote in your paws to watch the amazing antics, gymnastics and athletic prowess of the lithe, young cat-letes in:
KITTEN BOWL III - 2016
presented by the
Feline Football League (FFL)
on
Sunday February 7
at
12 Noon for Eastern and Pacific
11 AM for Central and Mountain
on the
Hallmark Channel
Sponsored by Arm & Hammer's Clump & Seal (litter, of course)
Kitten Bowl III will be hosted by Beth Stern (feline fav) and FFL Commissioner Boomer Esiason (retired quarterback and football analyst).  Professional Sports Announcers John Sterling and Mary Carillo will profile and introduce the cat-letes and describe every furr-ocious play.  It will be paw-some with purr-nominal match-ups!!  Some of the profiled players will be:
Rob Gron-Cat-Ski of the       Home and Family Felines
Howie Longhair of the           North Shore Bengals
Rocky of the                          Last Hope Lions
Puma Esiason of                   Boomer's Bobcats
Watch for Mr. Slippers, the most recent FFL Draft.  Mary Carillo speculates that Mr. Slippers shouldn't have trouble handling the ball with his extra toes.  But…well, you'll have to see.  One can only conclude that a high degree of cuteness reigns on the field at all times.  The crowning event will be presentation of the game trophy AND the announcement of the game's MVK (Most Valuable Kitten) award.
            Note that every player in these games will be up for adoption after the game.  The Commissioner notes that the players from all prior Kitten Bowls have found furr-ever homes.  All four Cat Authors have advised me that they want their treats served before noon on Super Bowl Sunday.  And, whoever finishes first will get the best noon nose-to-the-screen seat to watch Kitten Bowl III -  2016.
Information for this article was obtained from the website Hallmark Channel.com (click on Kitten Bowl) or Google 'Kitten Bowl 2016.'